A T-Shirt For A Champions Mentality.
Everyone Has A Chance To WIN with One Purchase, but Support and Buy 5 T-Shirts and Get a Free 3 or 5 Night Vacation Stay In Orlando, Mexico, Spain, Las Vegas, and More Automatically. Look Below for Options and Then Type in Your Desired Destination If You Purchase 5 or More!
The Baby Astronaut is All of Us. It insinuates that Idealistic thinking we want. That thought we think is perfect that isn't always but perseveres through positive affirmations and understanding in order to succeed failure becomes a reality that doesn't take away from perfection. You can't fail if you're not doing.
"Taking Action On What You Think Is Perfect Will Determine The Success Of The Idea. You Have To Just Do It, Be a Champion. Find Breakthrough In All Aspects of Life To Become a Better Person and Help The World Become A Better Place."
"We're All Born Champions."
The Star Insinuates Balance. "Balance In Life Is Key."
"Where Marketing and Ideas Get Results"
$14.99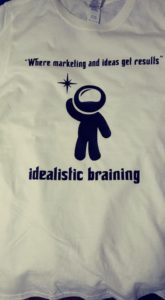 Orlando, Florida… Las Vegas, Nevada… Branson, Missouri… Williamsburg, Virginia… Gatlinburg, Tennessee…, Myrtle Beach, South Carolina,… Daytona Beach, Florida… 
"I Supported Five" 5 Night Over Seas Complimentary Vacation Stays
Cancun, Mexico… Puerto Penasco, Mexico… Mazatlan, Mexico… Nuevo Vallarta, Mexico… Acapulco, Mexico… Tenerife, Spain… Koh Samui, Thailand… Phuket, Thailand… Bali, Indonesia